Eco-Friendly Tote Bags
When tote bags are used to replace disposable bags, they're certainly eco-friendly. Many are made from renewable resources such as cotton and jute, and most tote bags can be recycled easily. Here we are featuring the most eco-friendly tote bags made from recycled, sustainable and organic materials. We offer a wonderful selection of recycled tote bags and eco tote bags. These totes can be custom printed with your logo and promotional message. Go green and feel great about your next promotion!
List Grid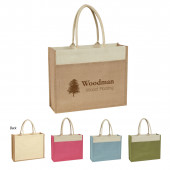 Made of 100% natural jute, these stylish totes are eco-friendly and biodegradable. Includes large front pocket and 22" padded cotton rope handles. Approximately 17" x 14" x 5.5".
Learn More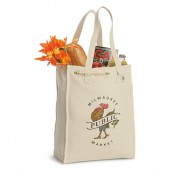 Made of 8 oz. recycled cotton (85% recycled content), this eco-friendly tote bag is a great choice for your next promotion. Includes 22" handles and educational product hangtag. Approximately 11" x 15.5" x 6".
Learn More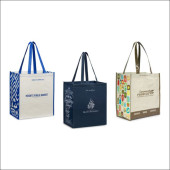 Made of 100% recycled PET fabric and laminated for durability. Unique graphics make this bag stand out in the crowd. Includes 23.5" shoulder straps. Approximately 13" x 15" x 8".
Learn More
List Grid

Recommended Uses for Eco Friendly Tote Bags
Green Promotions: As eco-friendly products become more readily available, many companies have focused on these products for their promotions. Eco friendly tote bags offer a number of promotional advantages. When people use reusable products and reduce the use of disposable products, that's great for the environment. Promoting the use of reusable tote bags over the use of disposable plastic bags is just one reason to use these recycled tote bags. Most tote bags are recyclable, and some are even made from recycled products such as pop bottles, recycled plastics and recycled cotton. Another option are eco tote bags made from renewable resources such as jute, a sustainable and renewable resource. Organic cotton is an eco-friendly alternative to traditional cotton tote bags. Make sure your customers know that you care about them, your community and the environment by incorporating eco-friendly totes into your next promotion.