Travel Mugs & Tumblers
More than 330 million cups of coffee are consumed each day by Americans. Just imagine if they were all drinking coffee out of travel coffee mugs custom printed with your logo! Coffee is the fuel of choice for most adults making personalized travel mugs an excellent choice as a promotional gift. Since more than 50% of Americans consume coffee, custom travel mugs are good for just about any promotion. We offer an excellent selection of travel mugs ranging from stainless steel travel mugs to our new ceramic double wall tumblers with silicone lids. And don't forget that these travel mugs are good for teas and cold beverages!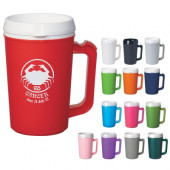 Big and sturdy, this promotional mug will look great imprinted with your logo. Available in several great colors, and includes double wall insulation and a drink through lid.
Learn More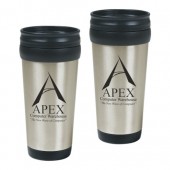 This handsome and durable stainless steel tumbler includes a screw-on, spill resistant slide action lid and plastic liner. A fine promotional giveaway.
Learn More

These Insulated Auto Cups easily fit most auto cup holders. Double-wall insulated to keep drinks hot. Available in a fun variety of colors. Includes a handy thumb-slide lid.
Learn More
Recommended Uses for Travel Coffee Mugs
Customer Gifts: From the stainless steel travel mugs to the popular double wall ceramic tumblers, we offer a great selection of coffee travel mugs that can be imprinted with your logo. There's a good chance your customers drink coffee. And there's an even better chance they'll love your custom printed travel mugs.
Hotels and Resorts: Travelers and vacationers often like to buy items that remind them of their journeys. Custom travel mugs are popular items with gift shops. Imprinted with the resort's logo, these personalized travel mugs are hot products.
Coffee Shops: Many coffee shops utilize custom travel mugs as a revenue stream by selling them to patrons, or offer discounted refills when customers return with their branded travel mugs.
Human Resources: Business owners and human resource directors have found that travel mugs make useful employee gifts. Your employees can use them at work, at home or in the car in-between. And of course, with your logo printed on them, they'll always remember who gave them the mugs.